Project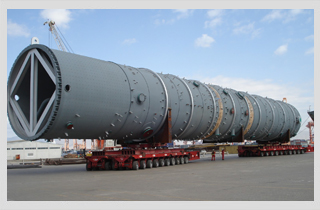 With our worldwide presence through our strategically located offices and extensive business channels, we enjoy reputation as a global market leader for our unique approach to manage the movement of any sized or shaped cargo involved in broad range of disciplines.

The Fundamental Element of our operations is the strategic planning, in overseeing all areas of pre-shipment and on-carriage delivery stages, taking into account any technical barriers and relevant statutory requirements to ensure a timely integrated logistics solution to the destination site all the while being focused on maximizing economic efficiencies wherever possible.

With highly experienced staff including specialized brokers, engineers and technical surveyors, Transworld's Project team offers total support to ensure a cost effective solution to accommodate specific delivery needs of our valued clients.

Our clienteles include Oil & Gas onshore customers, Mining companies, Power & Energy giants, Dredging industry and Craft, workboats and yacht manufactures.

Transworld's can offer a suitable vessel for your cargo requirements, whether it is a break bulk, heavy lift, project cargo or bulk from our own fleet of multipurpose and heavy lift vessels and from our mutual contracts carriers. The safety of your cargo is our top priority and we are excited to continue offering you more choices and flexibility in the global market place.